Expensive-sounding discrete mic preamps and vintage gear emulation
Antelope Audio's Discrete 4 Microphone Preamp comes with 4 console grade 6-transistor discrete preamps, 121 db dynamic range conversion and rock solid clocking. Discrete 4 features the Antelope Audio premier real-time FPGA FX modeling iconic gear from BAE, Lang, Gyraf Audio and FET.
Discrete 4 includes Accusonic 3D microphone and preamp models, guitar amps, transformer and tube FX, and a huge selection of classic vintage gear, which will soon be accessible in any DAW via the upcoming AFX2DAW Plugin.
Console-grade and fully Discrete Preamps offer world-class sound.
Discrete 4 was developed after an extensive research of legendary microphone preamp circuitry. The Antelope Audio FPGA engine can transform these already expensive sounding Accusonic preamps into a plethora of classic units real-time. The microphone source can be recorded with and without Accusonic modeling. This allows the engineer to choose between preamp models during mixing.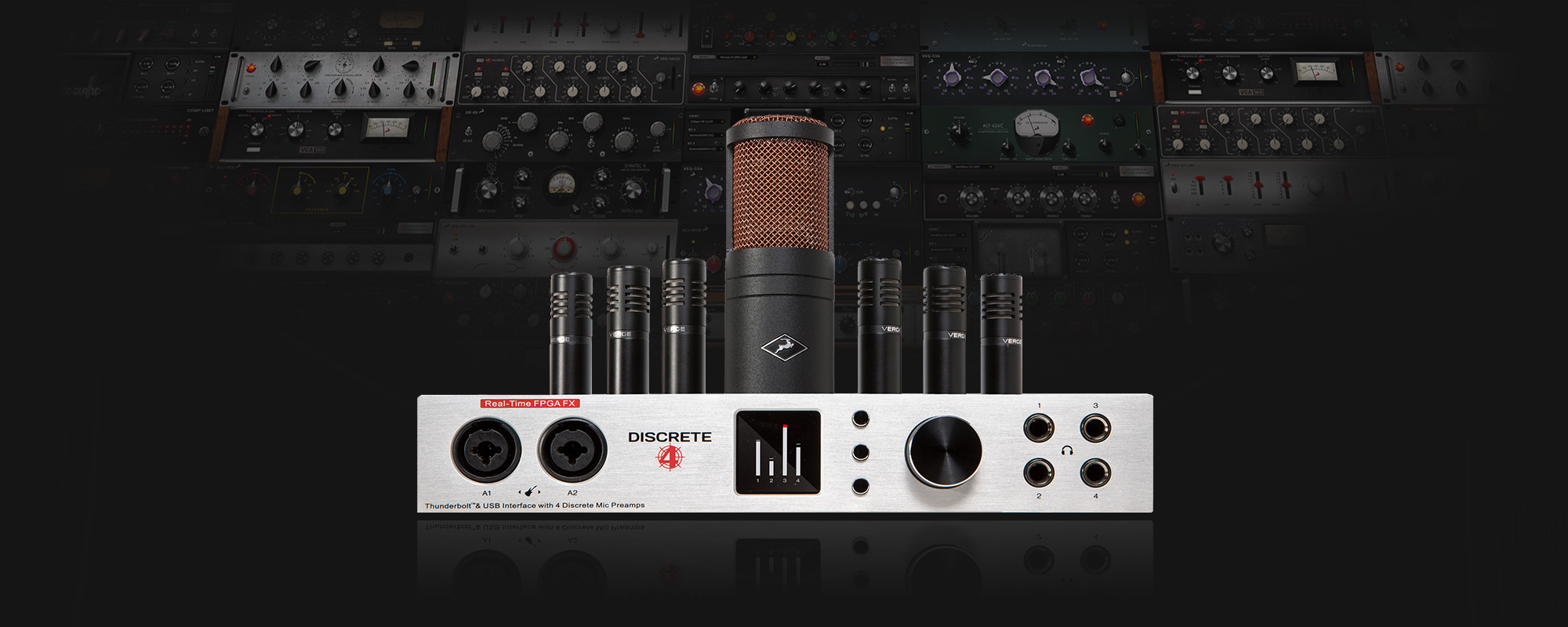 Enjoy the sound of legendary FX gear in your DAW
The Antelope Audio real-time FPGA platform is now extended to a complete professional studio experience – Microphones, Preamps, Conversion, Compressors, EQs, and Reverb. Use them within the Discrete 4 EasyPanel or in your preferred DAW via the upcoming AFX2DAW Plugin. Perform and record either with FX or process in post-production.
Transform Edge & Verge into vintage replicas
Inside the Discrete 4 FPGA Accusonic 3D modeling engine you can transform both Edge and Verge into vintage replicas giving you complete control over proximity effect and even allow you to change polar patterns during or after recording. Choose from a collection of classic and expensive microphones and track the results as you monitor live, bringing out a musician's best possible performance.
Proprietary jitter management technologies
Like all things Antelope Audio, Discrete 4 is a rock-solid clocking solution itself. It comes packed with the 4th Generation 64-bit Acoustically Focused Clocking (AFC) technology you already know from Antelope classics like Trinity, OCX HD and Pure2. Two Word Clock outputs allow you to distribute clock signal to your other digital gear.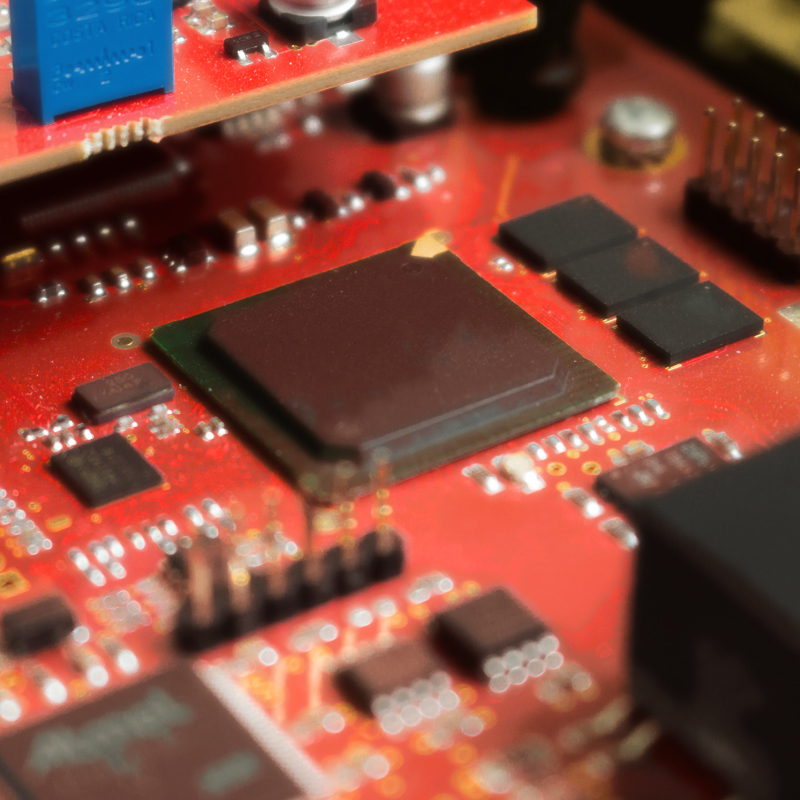 Maintain multiple mixes and exchange presets
Monitoring feature in Discrete 4 is super flexible and a breeze to set up. Create up to 4 individual monitoring mixes. Send them to Headphones or Monitor Outputs with or without the FPGA FX you've stacked. Vintage EQ, Compression and authentic guitar amp emulations will allow the recording artists to experience convincing sound, which is as close to the final product as possible.
With Discrete 4 users can save and load AFX presets and exchange settings with all Antelope Audio FPGA-equipped interfaces. Share your own FX settings with other devices and users.
Control Discrete 4 with free desktop and mobile apps
The free to download Discrete 4 remote App allows you to adjust all microphone input levels. It grants you full control over the Monitoring and Headphone volumes. Musicians can now control their own headphone volume through their smartphones.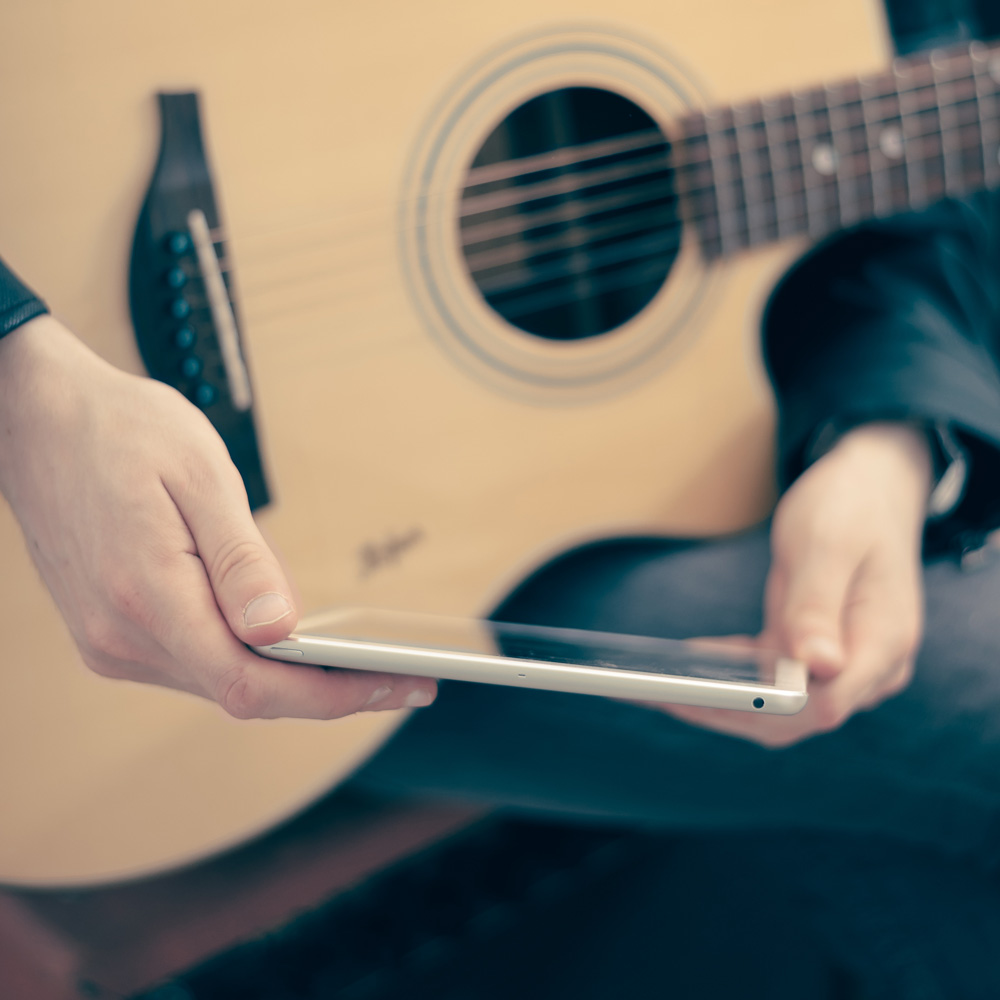 Features:
4 Discrete Mic Preamps: Console-grade Class A mic pres with discrete transistor design and precise digital gain controls.
Mic Preamp Modeling: Turn the Discrete 4 mic pres into a large selection of classic units in real-time
Real-time Fpga Fx: AFX including BAE, Grove Hill, Gyraf Audio and Lang classics for use in the Easy Panel or in any DAW
Rock-solid Clocking: Fourth Generation 64-bit Acoustically Focused Clocking (AFC) technology
Expert Monitoring: Create multiple mixes with FPGA FX included and send them to Headphone or Monitor outs
Remote Control: Access all Discrete 4 features via its intuitive Easy Panel or download the free iOS and Android mobile apps