Meyer Sound 900-LFC Compact Low-Frequency Control Element
Rethink Low-End Clarity
Low-frequency Immersion Starts with Low Distortion
The Meyer Sound 900-LFC is unlike typical subwoofers. A completely neutral loudspeaker with ultralow distortion, it adds no sonic signature of its own and reveals the audio source with the precision and power to immerse an audience.
Trim The Size, Not The Punch
The Meyer Sound 900-LFC brings the low-end control and impact of its larger sibling, 1100‑LFC, to a compact package. For all projects including those with limited floor space, you no longer have to settle for "good enough."
Take Command of Low-frequency Coverage
A combination of consistency and headroom gives you total flexibility and control in low-end directivity system design.
Self-powered Advantage
Self-powered technology eliminates amplifier racks, long loudspeaker cables, and any calibration of gain and crossover settings. The system can be rigged and ready in minutes.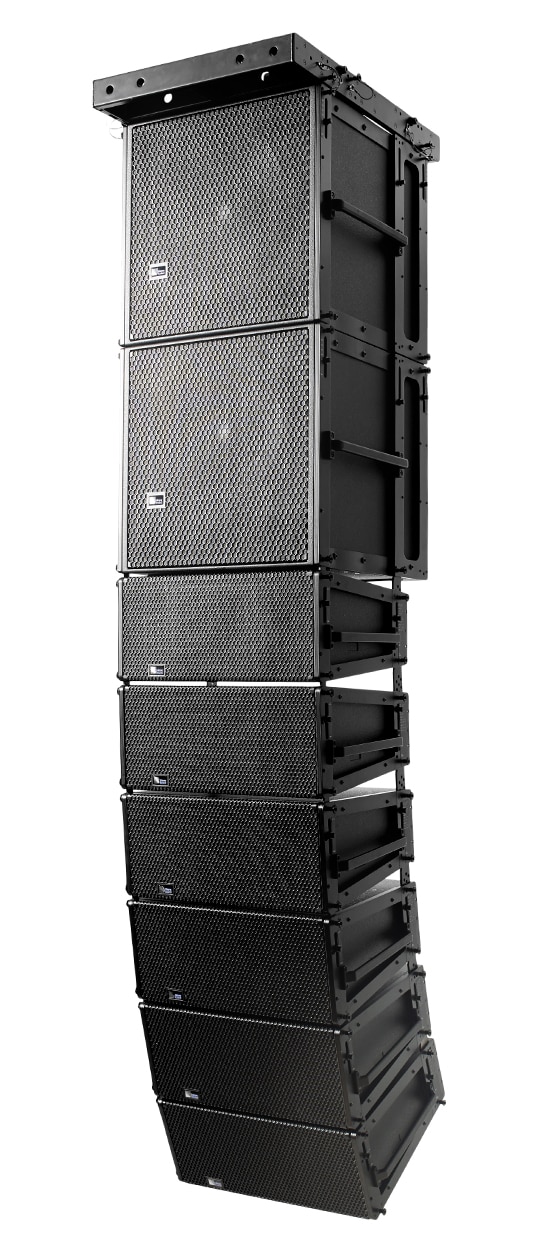 Meyer Sound 900-LFC compact low-frequency control element reproduces low frequencies at high, continuous output levels with extremely low distortion. The Meyer Sound 900-LFC offers the same sonic linearity as Meyer Sound's 1100-LFC low-frequency control element in a smaller, lighter cabinet, making it ideal for building scalable systems to suit touring applications or fixed installations of any size.
A newly-designed class D amplifier affords unprecedented efficiency to the 900-LFC, significantly lowering distortion while reducing power consumption and operating temperature. The onboard amplifier and control circuitry are contained in a single, field-replaceable module.
In addition to pairing with LEOPARD systems, the 900-LFC integrates easily with other Meyer Sound loudspeaker systems, including LEO-M, LYON, and ULTRA Series loudspeakers.
LEOPARD and 900-LFC can be driven by Meyer Sound's Galileo Callisto 616 array processor, which provides matrix routing, alignment, and processing for array components. To guarantee optimum performance, systems with the 900-LFC should be designed with Meyer Sound's MAPP software. LEOPARD and 900-LFC loudspeakers work with Meyer Sound's RMS remote monitoring system, which provides comprehensive monitoring of system parameters from a Mac or Windows-based computer.
The Meyer Sound 900-LFC is available with or without Meyer Sound's QuickFly rigging. When equipped with the optional MRK-900 rigging kit, the 900-LFC's captive GuideALinks allow it to be flown from the MG-LEOPARD/900 multipurpose grid in LEOPARD arrays without a transition frame. 900-LFCs can also be flown separately as a subwoofer array with variable splay angles from 0 to 5 degrees. The MG-LEOPARD/900 grid can also be used for groundstacks with uptilt or downtilt.
Both versions of the 900-LFC can be transported in stacks with the optional MCF-900 caster frame.
Architect Specifications:
The loudspeaker shall be a compact, self-powered, linear, low-distortion, low-frequency control element and shall be capable of flown, groundstacked, and cardioid configurations. Its transducer shall be one 18-inch dual-coil, long-excursion cone driver.
The loudspeaker shall incorporate internal processing and a 2-channel, open-loop, class D amplifier. Processing shall include equalization, phase correction, and driver protection. Performance specifications for a typical production unit shall be as follows, measured at 1/3-octave resolution: operating frequency range, 31 Hz to 125 Hz; phase response, 40 Hz – 110 Hz ±30 degrees.
Audio connectors shall be XLR 3-pin, female and male, accommodating balanced audio, or XLR 5-pin, accommodating both balanced audio and RMS.
The internal power supply shall perform EMI filtering, soft current turn-on, and surge suppression. Power requirements shall be nominal 100, 110, or 230 V AC line current at 50–60 Hz. UL and CE operating voltage range shall be 100–240 V AC at 50–60 Hz. AC power connectors for input and loop output shall be powerCON 20. Maximum long-term continuous current draw shall be 4.9 A rms at 115 V AC, 2.5 A rms at 230 V AC, and 5.2 A rms at 100 V AC. The loudspeaker shall include an RMS remote monitoring system module.
Components shall be mounted in an optimally tuned, vented enclosure constructed of multi-ply hardwood with a black textured finish. Optional rigging for the enclosure shall include endframes with captive GuideALinks for linking units in vertical arrays at splay angles from 0 to 5 degrees. The front protective grille shall be powder-coated, hex-stamped steel with black mesh.
Dimensions shall be 27.43 inches wide x 24.43 inches high x 24.89 inches deep (697 mm x 621 mm x 632 mm). Dimensions with optional rigging shall be 27.47 inches wide x 24.43 inches high x 24.89 inches deep (698 mm x 621 mm x 632 mm). Weight shall be 136 lbs (61.7 kg). Weight with optional rigging shall be 159 lbs (72.1 kg).
The loudspeaker shall be the Meyer Sound 900-LFC.
Features:
– Compact cabinet with small footprint and extraordinary power-to-size ratio
– High peak power output with extremely low distortion
– Exceptional linearity, transient reproduction, and low-frequency clarity
– Self-powered for simplified setup and increased reliability
– Stackable and flyable in regular and cardioid arrays, with tilt and splay options
– Integral pole-mount receptacle easily pairs the subwoofer with ULTRA Series loudspeakers
Solutions:
– Scalable low-frequency control for touring applications or fixed installations of any size
– Clubs, theatres, houses of worship, corporate AV, and theme parks
– Low-frequency complement for LEO-M, LYON, and LEOPARD systems
To learn more about Meyer Sound, Click Here