SSL Sigma Remote Controlled Analogue Summing (Used) with Delta upgrade
Remote Controlled Analogue Summing
Designed for the DAW user that seeks the legendary big sound of an SSL console while retaining the convenience of working in the box, SSL Sigma δelta is a unique rack mounting SuperAnalogue mixer with full synchronised control via the Sigma Remote Control Application and Delta-Control DAW plug-ins.
SSL Sigma Delta seamlessly brings the analogue joy of mixing on an SSL console into your DAW dominated workflow. Using MDAC technology unique to SSL, Sigma takes the SuperAnalogue mix buss from SSL's Duality and AWS consoles and delivers it in a 2U rack design, with complete remote control of the analogue signal path, using either a hardware control surface and/or a simple Remote Control Application, and/or directly from your DAW using the innovative SSL Delta-Control (D-Ctrl) plug-in. Now anyone who can drive a DAW can mix on an SSL.
Consistent feedback from the world's leading producers demonstrates that analogue summing still brings a record together in a special way that no emulation plug-in can match. Sigma Delta and SSL's no-compromise approach to designing audio circuits, delivers summing with an extended low-end frequency response, wide stereo imaging, clarity, depth and detail. When it comes to sonic tone and character many leading engineers state that a significant part of their 'sound' is the magic that happens when you drive the analogue mix buss of a console a little too hard…that delicate cohesive distortion only a pushed analogue mix buss brings their mixes. This is exactly the case with Sigma. It is at its best when pushed to that "sweet spot", to the point where it yields that extra sonic dimension which has always been part of the legendary SSL sound.
Sigma Delta combines its true analogue tone and depth with complete integration into a DAW dominated workflow. In today's commercial environment, fast turnaround of productions, with multiple mix tweaks and revisions, engineers and producers depend upon instant recall of all their settings. Sigma meets this demand. As Sigma's levels are driven from your DAW, the mix recalls instantly upon session load. Furthermore, every setting on Sigma itself (mix buss routing, monitoring section and settings) can be saved and recalled at the click of a button.
Sigma's versatile dual mix buss, individual direct output and insert architecture also provides a streamlined means of applying analogue signal processing within your DAW workflow and simplifies printing processed material back to your DAW.
Sigma Delta also features a dual output studio monitor and headphone switcher and talkback system which is completely remote controllable. Sigma is setup from a cross platform Remote App that offers full standalone control of Sigma Delta. Running on a Mac, PC, or iOS tablet the app also performs as a superb remote control for the monitor switcher/talkback.
Sigma Delta offers integration into multiple studio workflows and setups. Sigma Delta plug-ins provide streamlined implementation with Eucon enabled control surfaces such as Avid S3, S6 and Artist series or the Pro Tools Control app. Sigma Delta's plug-in parameters map across Eucon control surfaces via the Insert editor, meaning that users can easily move between controlling their summed Sigma mix and their DAW session from the same surface.
The Sigma Delta mix engine can also be controlled from any SSL MCU-compatible control surface. Sigma's MCU control requires no DAW software to be active, it simply requires the Sigma Remote to be running and a SSL control surface to be connected via a Network cable to the same DHCP server or router that Sigma is connected to. The Nucleus/Sigma fusion becomes a fully integrated 32 into 4 automated line mixer, with full monitoring and talkback capabilities. Sigma can also be used in combination with Duality, AWS and Matrix to add additional automated mixing capacity. Inserting Sigma Delta across the insert points of an XL desk, instantly adds automation to the console.
Features:
– Advanced Delta-Control automation driven SSL SuperAnalogue mix engine
– Works with major DAWs including Pro Tools, Logic, Cubase, Nuendo and Ableton Live
– Eucon enabled control of Sigma Delta plug-ins via control surfaces such as Avid S3, S6 and Artist series or the Pro Tools Control app
– SSL MCU Control of Sigma Delta via dedicated Nucleus profile
– 16 flexible channels individually switchable between stereo or mono for up to 32 channels at mixdown
– 2 stereo mix busses with individual stereo insert points
– Independent Main and Alternate Monitor outputs
– Direct outputs on all channels
– Talkback facility with adjustable Dim level
– Intuitive cross platform Remote Control app
– High speed 'Logictivity Control' via single Ethernet cable
Feature Detail
Sigma is powerful and very flexible.
It has 16 stereo input channels which can be individually switched between being mono or stereo for up to 32 channels at mixdown. There is accurate metering for all channels via LED meters on the Sigma hardware unit. There are two stereo mix busses with dedicated outputs and individual stereo insert points to facilitate implementation of parallel compression or convenient printing of stems back to the DAW with processing applied. Mix Bus B can also be injected into Mix Bus A for final mixdown. Providing further flexibility, Mix Bus A & B inserts also include an 'insert sum' feature to sum the insert return to the mix bus.
Each input channel also features individual direct outputs for printing individual channels back to your DAW. The inclusion of direct outputs streamlines integration of analogue processing, with a typical configuration connecting DAW I/O outputs to outboard processor inputs, then processor outputs to Sigma inputs and Sigma direct outputs back to the DAW I/O. Unlike "dumb" analogue summing boxes, with this configuration, the gains of each channel on Sigma are automatable POST the outboard processors eliminating the effects of volume change inside the DAW riding into outboard compressors.
An Artist and Studio monitoring section provides separate Monitor and Headphone circuits. The Main monitor output has Main and Alternative connections to accommodate 2 sets of monitors. A comprehensive switching matrix enables selection of monitor source and output. A large front panel level control uses a push-select mechanism to determine whether it adjusts Mix A, Mix B, Main Monitor or Headphone. There is also a Talkback input with adjustable Dim level. A handy front panel ijack input (3.5mm stereo socket) feeds into the monitoring section.
The Sigma Remote app offers full control of all Sigma functions plus store and recall of saved settings. It runs on a Mac, PC, iOS or Android tablet device and connects to your workstation via Ethernet (or wirelessly from a tablet via a wireless router). The user interface provides a series of intuitive pages that makes controlling Sigma's powerful feature set straightforward. Three main screens provide control and setup of the Master Section, Channel Control and Global Settings parameters. Every parameter can be saved for future recall making swapping between projects simple and efficient.
Sigma Delta supports full direct remote control of the mix engine from any SSL MCU-compatible control surface. Supported channel functions are level, pan, solo, mute, mono/stereo, and mix bus routing. Channel labels as well as volume and pan data are returned to the surface for display. The Dim, Cut, Mono and Alt monitor functions, as well as Talkback, can be controlled from MCU F-Keys. MCU control is via MIDI over Ethernet and shares the same Network link as the Remote app and Delta-Control. Similar functionality is also available with Eucon enabled devices.
The Sigma rack unit houses the analogue summing engine, provides connectivity, a set of bright status and level LED's, hardware controls, headphone socket and ijack input. A pair of user assignable dual action push/hold buttons on the front panel plus a foot-switch input can be assigned to the master section functions. The rear panel provides dedicated XLR connections for the Mix Bus A and the Main and Alt monitor outputs. The individual line inputs and direct outputs are connected via standard 25pin D-Sub. An additional pair of D-Sub connections handle Mix Bus inserts, Mix B output and line level Talkback input.
Delta-Control (D-Ctrl)
The unique new SSL console automation system unites the very best of automation in the analogue console domain with DAW based workflow.
Single Fader Plug-in
Delta-Control (D-Ctrl) Single Fader Plug-in is a native AAX/RTAS/VST/VST3 plug-in that allows automation of Sigma channel volume as if it were a DAW plug-in. Inserting 16 instances into the DAW session will allow control of volumes and cuts for all 16 of Sigma's channels. The automation system in the DAW is used to record and playback Sigma volume control data entered either directly from the fader in the plug-in GUI or from a SSL MCU control surface which is controlling Sigma directly. The D-Ctrl plug-in is inserted into a DAW mixer audio or aux channel. The plug-in then receives and sends volume data from Sigma Delta via a high speed ethernet network connection. Audio on the DAW track passes through the plug-in slot unprocessed so the plug-in can be combined with other DAW plug-ins. SSL Sigma's Volume and Mute switch are represented as plug-in parameters in the D-Ctrl plug-in GUI and their automation data is recorded to the automation lane of the selected DAW channel. In playback, the plug-in converts the stored automation data from the DAW into D-Ctrl messages and routes these back to Sigma via the SSL Logictivity network connection.
16 Fader Plug-In
The 16-fader ' SSL Sigma Delta Remote Controlled Analogue Summing 16' plug-in provides compatibility to Logic users, as well as offering an alternative workflow to 'Sigma Delta Single Fader' plug-in users. The plug-in is available all formats including AAX/AU/VST3/VST. The Sigma Delta 16 plug-in allows users to write automation for Sigma's 16 analogue faders from one plug-in window, solving Logic's inherent limitation of only being able to write data to one plug-in at a time. In addition to this, Sigma Delta 16 can control pans, Solo, Cut, mono/stereo selection and mix bus assignments.
Mix Bus Plug-In
The SSL Sigma Delta Mix Bus plug-in allows users to automate Sigma's two stereo mix busses and their insert points.
Monitoring Plug-In
The SSL Sigma Delta Monitoring plug-in allows full control of Sigma's monitoring section, including monitor and headphone levels, monitor cut, dim and source selection. It allows Sigma's Monitoring section to be controlled from your DAW, a control surface or the SSL Remote Application running on a computer or a tablet device.
Setup Concepts
Sigma communicates with your computer a little differently to what you may be used to… it is worth reading this, all of which is covered in detail in the User Guide, before setting up.
The SSL Sigma is an analogue summing unit which can be controlled from a cross platform Remote app, from a MCU compatible control surface using MIDI control, and from a DAW via the Delta-Control plug-in.
The Remote app and the D-Ctrl plugin use a standard Ethernet connection to communicate with Sigma.
MCU control and MIDI control from an SSL control surface uses an application called 'ipMIDI' which runs on your computer to route MIDI data to Sigma via the same ethernet cable that carries the Remote app and D-Ctrl messages.
D-Ctrl, the Remote app and IP MIDI require that a network connection exists (via Ethernet) between your computer and SSL Sigma. This is set up in a similar way to configuring a wireless hub and requires selection of appropriate settings in your network control panel in your computer.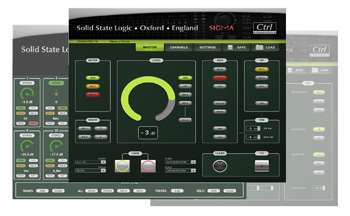 To use a tablet/smartphone device (iPad etc) to control Sigma you will need a Wireless Router or wireless access point (AP), to which your computer and SSL Sigma are already connected (using physical Ethernet cables). You simply connect to your tablet via WI-FI from the Wireless Router or access point. This allows the Remote app to control Sigma. This is necessary as Sigma does not have a wireless connection of its own.
The network and MIDI control aspects of Sigma are entirely separate to the audio side of SSL Sigma. All audio connections are made between the SSL Sigma unit and your Computer audio interface/converters.