Latch Lake Music MicKing 3300 Straight Microphone Stand
Proven to be the industry's most trusted stands, the entire micKing product line is truly built to last and most importantly, keep your most valuable microphones safe. With the micKing's unique flexible strength they enable the opportunity to place a microphone just about anywhere with confidence that it will stay in place. With great strength comes ease of use, every adjustment point on a Latch Lake Music MicKing 3300 Straight Microphone Stand can be quickly repositioned via a simple cam Lever Lock. These Lever Locks feature variable tension to allow for a range of hold from very loose to extremely strong.
Lever Lock System

Quick and simple adjustments throughout the entire stand. These locks ensure, hands down, the strongest hold possible with the least amount of frustration. You can even customize their tension to your precise needs!
Design

Our unique patented bases don't only have the most efficient placement of weight; they can be positioned within each other for great space saving storage.
Accessories:
| | |
| --- | --- |
| BLACK | CHROME |
The Xtra Boom is Latch Lake's go-to product for mic arrays and tricky mic placement. It's an accessory boom that enables you to hang multiple microphones from one stand featuring a single lever lock system adjusting the extension, orientation and spin of the boom. Then locks it firmly in place. It will attach to any stand ranging from 5/8″ to 1 3/16″. Xtra Booms prove to be very useful in micing drums, vocal shootouts, guitar amps and custom/standard arrays. Available in 12″, 18″, and 24″ lengths.
| | |
| --- | --- |
| BLACK | CHROME |
The Spin Grip Mic Mount, one of the final tweaks to the Latch Lake Music MicKing 3300 Straight Microphone Stand, single-handedly fixed the long standing joke of "positionable" microphone mounts. Due to its high popularity within the micKing product line, we made the SGMM a stand alone accessory for owners of non-Latch Lake microphone stands. With a positionable range of 295º, the SGMM utilizes a 3″ disk brake capable of locking the heaviest of microphones in place. Its unique free-spinning thread system allows for spinning the threads on to your microphone instead of spinning your microphone on to the threads. The basic SGMM comes with a 1 x 5/8-27 thread extender (Thread Saver) to facilitate short threads often found on most microphone stands. Its mounting point is a 5/8-27 thread for US microphones. A European adapter is available.
In partnership with iOmounts, the iOxboom, one of the accessories for Latch Lake Music MicKing 3300 Straight Microphone Stand, is a flexible and secure way to magnetically hold your phone or tablet on your microphone stand. Compatible with most portable devices of today and more importantly tomorrow. The mount is supplied with a smooth steel ball (iOball) that screws onto any 5/8″-27 thread in place of the mic clip, a magnet (iOcore) which can be positioned anywhere on the outside of the ball, and two steel stickers (iOadapts), that you apply to your approved devices or their cases.In order to efficiently utilize a stand and space, the iOxboom comes with an Xtra Boom, allowing you to securely attach the iOxmount on to microphone stands, and even drum hardware! This mount is great for sheet music, lyrics, viewing video for ADR and post, controlling your DAW from the performance area, as an instrument, effects, filming video, taking pictures, running your own monitor mixes, running your metronome, controlling your lights and much more! Wherever you use your tabliet or phone, the iOxboom will hold it.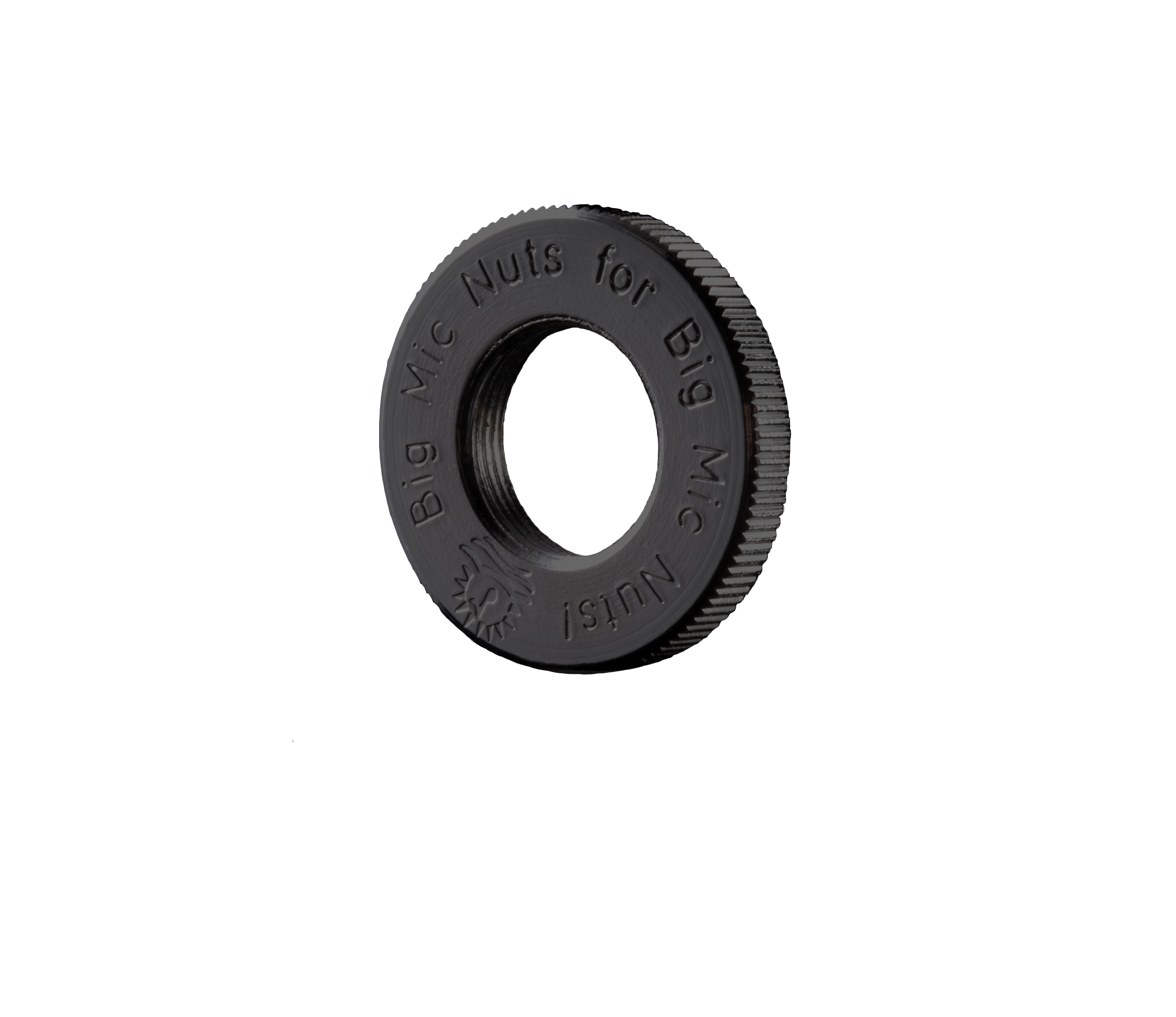 The Jam Nut, an often over-looked detail of a microphone placement because it allows YOU to determine where the threads should end. Latch Lake builds them big so hand tightening is a reality. Big nuts. Small price. Every studio should have about 50.
To learn more about Latch Lake Music, Click Here