Merging Technologies IOC-HORUS Converter
What is Merging Technologies IOC-HORUS Converter  ? Horus might be one of the worlds most sonically transparent mic pres. Horus might also be one of the most phenomenal AD/DA boxes on the market. Horus could very well be the ultimate answer to anyone wanting analog/AES/MADI interconnectivity in the room they work in. Merging Technologies IOC-HORUS Converter is a revolution in bang-for-buck technology and is set to become the de-facto audio I/O device for the media industries.
But, in reality the Merging Technologies IOC-HORUS Converter is much, much more. Using Ravenna technology, Horus brings to the table the possibility to interconnect your entire facility using nothing more than a standard RJ45 connector. Once in Ravenna mode, the Horus box simply becomes a node on a network, one that can be instantly called to be an input, an output, or a combination of both.
Using standard network connections, switches and connectors, Horus and other Ravenna-enabled devices can be placed on a network and interconnected in any way you can imagine.
Standard Connections:
64 MADI I/O (Optical or Coaxial)
24 AES/EBU I/O (on DSub 25)
RAVENNA I/O (on RJ45)
SYNC – LTC/MTC/VideoRef/Wck (requires CON-D15-VTC cable)
6 option slots for AD8D/AD8DP and DA8/DA8P cards
1 option slot for MADI expansion option
Optional Additions:
AD8D and AD8DP standard and premium Mic/Line Input cards
DA8 and DA8P standard and premium Line Output cards
MADI expansion card delivering 64 additional MADI channels
Redundant power supply option
RS-422 and GPIO option card (In Development)
The ability to choose the amount of I/O that each Merging Technologies IOC-HORUS Converter unit is capable of saves money without diminishing the level of quality. Choose to add any of the option modules to your Horus and create the ultimate audio interface for your studio, whatever the size. Once the Horus is fully loaded with option cards, it is capable of achieving an astonishing, simultaneous 176 inputs and 178 outputs @1FS.
Features:
Up to 24 world-class mic preamps in a 2u chassis
Remote-controllable gain over Ethernet
Integrated control and routing with the Pyramix Mixer interface
24 AD/DA converters capable of sample-rates from 44.1 to 384kHz to DXD/DSD
Low-power build perfect for power conscious installations
Auto-mute circuitry for power cycling click prevention
Comes standard with 1xMADI, 24xAES and Ravenna I/O
Sync (LTC/MIDI/RS422) over Ethernet
Lock to an ultra-low jitter, individually calibrated internal sync clock OR
Use an external Wordclock or Video Reference (SD/HD) source OR
Lock to a PTP master on a RAVENNA network.
Front panel touch-screen interface for local control over routing/gains/sync
Merging Technologies IOC-HORUS Converter Base Unit
HORUS Specifications

Case Material
Powder Coated Steel
Front Panel Material
Brushed Aluminum
Weight (excluding redundant PS)
6.5 kg/ 14.4 lbs
Dimensions (2U rack mounting)
483 x 320 x 89 mm
Voltage (AC)
90V–260V, 47–63 Hz
Power Consumption (Max)
< 60 Watts
Front Panel TFT size/resolution
4.3" / 480 x 272 pixels
Headphone Monitor Jacks

Max output Level (Unbalanced) Load = 300 Ohms
+15 dBu
Output Impedance
75 Ω
Dynamic Range (A-weighted, typ)
109 dB
THD+N (1 kHz) @ -2 dBFS
< -100 dB (0.001 %)
Gain Range (software controlled)
-60 dB to +12 dB
Gain Step/Precision
1dB / ±0.05 dB
Connectors

"Sync" Cable (LTC/Video Ref)
D-Sub 15Pin
LTC In & Out (via "Sync" Cable)
Balanced XLR
Video Reference In (via "Sync" Cable)
BNC
Word Clock Input (Switchable 75 Ω Termination)
BNC, 0.5Vp-p min
Word Clock Output (Zout = 35 Ω)
BNC, 5Vp-p
AES Connector pinout (DB-25 female)
AES59/Tascam Digital
MADI types (Coaxial / Optical)
BNC / SC
Heaphone Jack 1&2
6.3 mm(1/4")/3.5mm
RAVENNA Primary / Secondary (GbE)
RJ45
AKD8D / AKD8DP
Mic Pre-Amp + ADC

Mic Pre Max Input (Pad On / Pad Off)
+24 dBu / +13 dBu
Input Impedance (Differential, Software Switchable Per Channel)
1.9 kΩ / 10 kΩ
Input Impedance with +48V ON (Diff., Soft. Switchable Per Channel)
1.9 kΩ / 10 kΩ
Dynamic Range (A-weighted, typ.) , ref +10 dBu
123.5 dB
Gain Range (software controlled)
0 dB to +66 dB
Gain Step/Precision
0.5 dB / ±0.2 dB
THD+N Pre + A/D (20 Hz-20 kHz) @ -2 dBFS (Standard/Premium)
< -110dB (0.00031%)/-111dB (0.00028%)
Interchannel Crosstalk @ 1kHz, typ.
< -125 dB
EIN @ >40 dB Gain (150Ω Source Impedance, A-weighted, typ.)
< -128 dBu
Common Mode Rejection Rate (20 Hz – 20 kHz)
> 60 dB (up to 0 dBFS)
Phantom Power (Software Switchable Per Channel)
+48V
Phase Reverse (Software Switchable Per Channel)
YES
Low Cut filter (Software Switchable Per Channel)
-12 dB/octave, 80 Hz
Line Input

Max Line Input for 0 dBFS
+24 dBu
Input Impedance (Differential)
10 kΩ
Dynamic Range (A-weighted, typ), ref +24 dBu
124 dB
THD+N Line+A/D (20 Hz – 20 kHz) @ -10 dBFS
< -110dB (0.00031%)/-111dB (0.00028%)
Interchannel Crosstalk @ 1kHz @ fullscale
< -130 dB
Sensitivity Range for 0 dBFS (software controlled)
-42 dBu to +24 dBu
Gain Step/Precision
0.5 dB / ±0.2 dB
Common Mode Rejection Rate (20 Hz – 20 kHz)
> 60 dB / > 65dB (both up to 0 dBFS)
Connector Pinout
DB-25 / AES59 (Tascam Ana.)
AKD8D/AKD8DP Mic-Pre Analog Section

Frequency response +0/-0.5 dB, Line
2 Hz – > 200 kHz
Frequency response +0/-2.0 dB, Line
1 Hz – > 200 kHz
Frequency response +0/-0.5 dB, Mic, at G=40dB
2 Hz – 65 kHz
Frequency response +0/-2.0 dB, Mic, at G=40dB
1 Hz – 160 kHz
THD+N (1 kHz), Line/Mic at G=0dB
< -115 dB (0.00018 %)
THD+N (20 Hz-20 kHz) , Line/Mic at G=0dB
< -112 dB (0.00025 %)
Interchannel Crosstalk @ 1kHz, typ.
-140dB
5° low-end in-channel Ø deviation pt: Line
9 Hz
5° low-end in-channel Ø deviation pt: Mic
9 Hz
Interchannel phase 10 Hz – 100 kHz
< ±0.1°
AKD8D/AKD8DP Analogue Direct Output Section

Frequency response +0/-0.5dB @ Gain 40 dB
2 Hz – 65kHz
Max Direct Output Level, typ
+24 dBu / +13 dBu
Direct Output Impedance (Differential)
> 100 Ω
Dynamic Range (flat 20 Hz-20 kHz, typ.)
140 dB
THD+N (1 kHz) @ +10dBu
< -120dB (0.0001 %)
Direct Output Connector Pinout
DB-25 / AES59 (Tascam Ana.)
AD8D / AD8DP
Mic Pre-Amp + ADC

Mic Pre Max Input (Pad On / Pad Off)
+24 dBu / +13 dBu
Input Impedance (Differential, Software Switchable Per Channel)
2 kΩ / 13.6 kΩ
Input Impedance with +48V ON (Diff., Soft. Switchable Per Channel)
1.7 kΩ / 6.8 kΩ
Dynamic Range (A-weighted, typ.) , ref +13 dBu
120.5 dB
Gain Range (software controlled)
0 dB to +66 dB
Gain Step/Precision
0.5 dB / ±0.2 dB
THD+N Pre + A/D (20 Hz-20 kHz) @ -2 dBFS (Standard/Premium)
< -96dB (0.0016 %) / -100 dB (0.001 %)
Interchannel Crosstalk @ 1kHz, typ.
<-125 dB
EIN @ >40 dB Gain (150Ω Source Impedance, A-weighted, typ)
< -128 dBu
Common Mode Rejection Rate @ 1kHz, typ.
> 60 dB (up to 0 dBFS)
Phantom Power (Software Switchable Per Channel)
+48V
Phase Reverse (Software Switchable Per Channel)
YES
Low Cut filter (Software Switchable Per Channel)
-12 dB/octave, 80 Hz
Line Input

Max Line Input for 0 dBFS
+24 dBu
Input Impedance (Differential)
13.6 kΩ
Dynamic Range (A-weighted, typ), ref +24 dBu
121 dB
THD+N Line+A/D (20 Hz-20 kHz) @ -12 dBFS, typ.
< -100 dB (0.001%)
Interchannel Crosstalk @ 1kHz, typ.
< -120 dB
Sensitivity Range for 0 dBFS (software controlled)
-42 dBu to +24 dBu
Gain Step/Precision
0.5 dB / ±0.2 dB
Common Mode Rejection Rate (20 Hz – 20 kHz)
> 60 dB (up to 0 dBFS)
Input Connector Pinout (DB-25 female)
DB-25 / AES59 (Tascam Ana.)
AD8D/AD8DP Mic-Pre Analog Section

Frequency response +0/-0.5 dB, Line
5 Hz – 75 kHz
Frequency response +0/-2.0 dB, Line
2.5 Hz – 150 kHz
Frequency response +0/-0.5 dB, Mic
10 Hz – 100 kHz
Frequency response +0/-2.0 dB, Mic
5 Hz – 200 kHz
THD+N (1 kHz), Line/Mic at G=0dB
<-115 dB (0.00018 %)
THD+N (20 Hz-20 kHz) , Line/Mic at G=0dB
<-112 dB (0.00025 %)
Interchannel Crosstalk @ 1kHz, typ.
-135dB
5° low-end in-channel Ø deviation pt: Line
13 Hz
5° low-end in-channel Ø deviation pt: Mic
35 Hz
Interchannel phase 10 Hz – 100 kHz
< ±0.1°
AD8D/AD8DP Analogue Direct Output Section

Frequency response +0/-0.3dB @ Gain 40 dB
10 Hz – 50 kHz
Max Direct Output Level, typ
+24 dBu / +13 dBu
Direct Output Impedance (Differential)
< 100 Ω
Dynamic Range (A-weighted, typ)
133 dB
THD+N (1 kHz) @ +10dBu
< -120dB (0.0001 %)
Direct Output Connector Pinout
DB-25 / AES59 (Tascam Ana.)
ADA8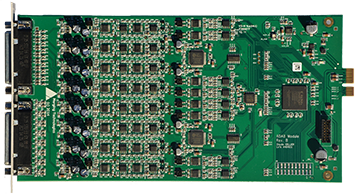 Mic-Pre + ADC Section

Mic Pre Max Input (Pad On / Pad Off)
+24 dBu / +13 dBu
Input Impedance (Differential, Software Switchable Per Channel)
2 kΩ / 6.8 kΩ
Frequency response +0/-0.3dB @ fs = 48 kHz
10 Hz – 22 kHz
Frequency response +0/-0.3dB @ fs = 96 kHz
10 Hz – 44 kHz
Frequency response +0/-0.3dB @ fs = 192 kHz
10 Hz – 85 kHz
Dynamic Range (A-weighted, typ.), ref +13 dBu
119.5 dB
Gain Range (software controlled)
0 dB to +66 dB
Gain Step/Precision
0.5 dB / ±0.2 dB
THD+N Pre + A/D (20 Hz – 20 kHz) @ -2 dBFS
< -102 dB (0.0008 %)
Interchannel Crosstalk @ 1kHz
< -125 dB
EIN @ >40 dB Gain (150Ω Source Impedance, A-weighted)
< -128 dBu
Common Mode Rejection Rate (20 Hz – 20 kHz)
> 60 dB (up to 0 dBFS)
Phantom Power (Software Switchable Per Channel)
+48V
Phase Reverse (Software Switchable Per Channel)
YES
Low Cut filter (Software Switchable Per Channel)
-12 dB/octave, 80 Hz
Line Input Section

Max Line Input for 0 dBFS
+24 dBu
Input Impedance (Differential)
13.6 kΩ
Dynamic Range (A-weighted, typ), ref +24 dBu
120 dB
THD+N Line+A/D (20 Hz – 20 kHz) @ -2 dBFS
< -102 dB (0.0008%)
Interchannel Crosstalk @ 1kHz, typ.
-125 dB
Sensitivity Range for 0 dBFS (software controlled)
-42 dBu to +24 dBu
Gain Step/Precision
0.5 dB / ±0.2 dB
Common Mode Rejection Rate (20 Hz – 20 kHz)
> 60 dB (up to 0 dBFS)
Connector Pinout (DB-25 female)
DB-25 / AES59 (Tascam Ana.)
Line Output Section

Max Output level software switchable for 0 dBFS
+24 dBu / +18 dBu +0/-0.5 dB
Frequency response +0/-0.3dB @ fs = 48 kHz
6 Hz – 22 kHz
Frequency response +0/-3dB @ fs = 96 kHz
6 Hz – 44 kHz
Frequency response +0/-3dB @ fs = 192 kHz
6 Hz – 88 kHz
Output Impedance (Differential)
< 100 Ω
Dynamic Range (A-weighted, typ.)
123 dB
THD+N (1 kHz) @ 0dBFS
< -108 dB (0.0004 %)
Interchannel Crosstalk @ 1kHz
< -135 dB
Connector Pinout
DB-25 / AES59 (Tascam Ana.)
Latencies

Input latency at 44.1/48kHz
16 samples
Input latency at 88.2/96kHz
16 samples
Input latency at 176.4/192kHz
13 samples
Output latency at 44.1/48kHz
9* samples
Output latency at 88.2/96kHz
9* samples
Output latency at 176.4/192kHz
9* samples
* Filter setting
– Slow Roll Off Filter option = 9 Samples
– Sharp Roll Off Filter option = 38 Samples
DA8/DA8P
DA8/DA8P Specifications

Max Line Output @ 0 dBFS (jumpers on +24 dBu)
+24 dBu +0/-0.5 dB
Frequency response +0/-0.3dB @ fs = 48000 Hz
6 Hz – 20 kHz
Frequency response +0/-0.3dB @ fs = 2.8224 MHz (DSD)
NA / 6 Hz – 20 kHz
Frequency response +0/-3.0dB @ fs = 2.8224 MHz (DSD)
NA / 2 Hz – 50 kHz
Line Output Impedance (Differential)
100 Ω
Dynamic Range (A-weighted, typ)
126 dB
THD+N D/A (1 kHz) @ 0 dBFS (IOM-HORUS-DA8)
< -113dB (0.00022 %)
THD+N D/A (1 kHz) @ 0 dBFS (IOM-HORUS-DA8P)
< -115dB (0.00018 %)
Interchannel Crosstalk @ 1kHz, typ.
-135 dB
Connector Pinout (DB-25 female)
AES59/Tascam Analog
Line Output Section

Max Output level software switchable for 0 dBFS
+24 dBu / +18 dBu +0/-0.5 dB
Frequency response +0/-0.3dB @ fs = 48 kHz
6 Hz – 22 kHz
Frequency response +0/-3dB @ fs = 96 kHz
6 Hz – 44 kHz
Frequency response +0/-3dB @ fs = 192 kHz
6 Hz – 88 kHz
Output Impedance (Differential)
< 100 Ω
Dynamic Range (A-weighted, typ.)
123 dB
THD+N (1 kHz) @ 0dBFS
< -108 dB (0.0004 %)
Interchannel Crosstalk @ 1kHz
< -135 dB
Connector Pinout
DB-25 / AES59 (Tascam Ana.)
Latencies

Input latency at 44.1/48kHz
16 samples
Input latency at 88.2/96kHz
16 samples
Input latency at 176.4/192kHz
13 samples
Output latency at 44.1/48kHz
9* samples
Output latency at 88.2/96kHz
9* samples
Output latency at 176.4/192kHz
9* samples
* Filter setting
– Slow Roll Off Filter option = 9 Samples
– Sharp Roll Off Filter option = 38 Samples
For more info about Merging Technologies, visit: http://www.merging.com