PSI AUDIO A214-M Active Center-Channel Studio Monitor (Single)
Powerful active center monitor
The A214-M is designed as the ideal centre speaker for surround systems. Its incredible power is optimised to satisfy the requirements of post-production and film mixing suites.
Features:
100% Analog – No DSP.
Flat frequency response.
Perfect stereo image.
True D'Appolito design.
Monitor can be swivelled 90°.
Class G/H Amplifiers.
Individually calibrated.
5+1 years warranty.
Handmade in Switzerland.
The perfect immersion in your studio
Only you know where your story begins, and who knows where it will take you? The A214-M can help you define that "where" – by enhancing your surround setup with an optimised centre speaker.
The sound that has earned PSI Audio the respect of audio professionals all around the world is primarily defined by accuracy and hence its natural reproduction, playing back sound without altering it. The A214-M perfectly translates these qualities into a speaker ideally suited for the central position in immersive audio applications. Get all the fine details of the voices in the dialogue, hear that little rasp, that hint of a lisp introduced by the compressor. Start hearing if anything is just slightly off in the voices immediately, identify the source and create better results in less time. The A214-M gives you all the information you need.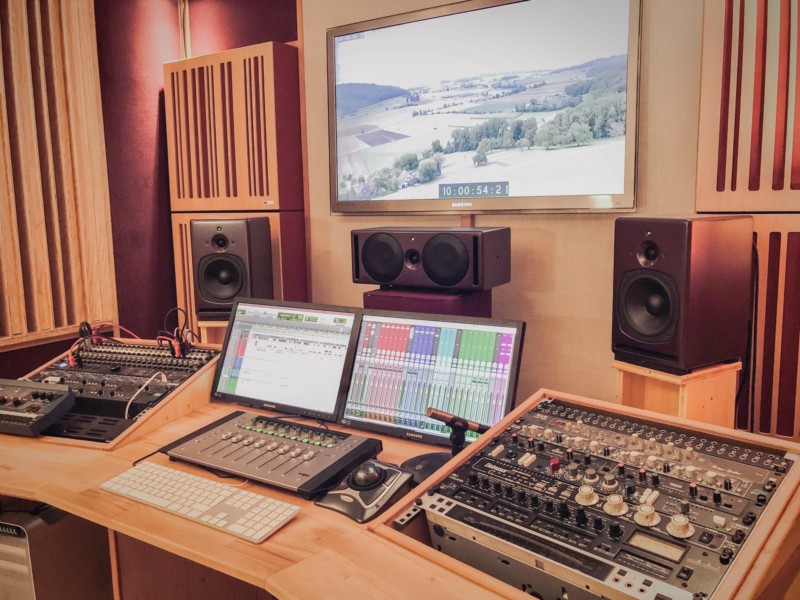 True D'Appolito
The A214-M was developed to be a compact central speaker with sound pressure maximized more than bandwidth.
A tweeter and 2 woofers in D'Appolito configuration in an extremely compact cabinet but capable of astonishing sound pressure levels.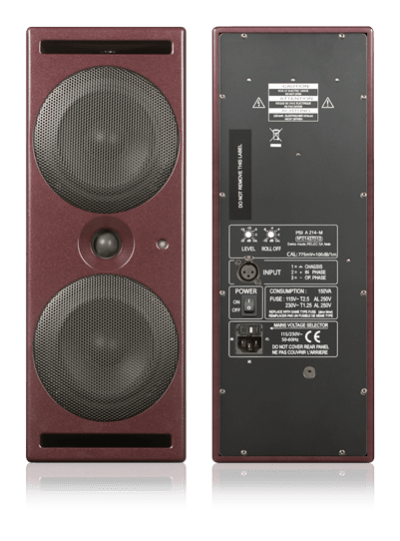 A214-M – The powerful centrepiece
The A214-M is the ideal centre speaker for surround systems. Its power and precision make it the perfect choice for discerning post-production studios and film mixing suites.
Most common surround setup: A21-M as L+R, A14-M as surround, A214-M as center, Sub A225-M as LFE.
Thanks to our phase compensation on the whole range of monitors, these can be mixed and matched in any immersive setup.
Technical Data:
Dispersion (H x V)80 x 40deg
Data
A214-M
[Unit]
Potential peak power
280 + 45
W
Continuous max SPL@1 m
104
dB
Short term max. SPL@1m
108
dB
Peak max. SPL@1m
117
dB
Signal to noise ratio (S/N)
96
dBA
Bandwidth at -6dB
53-23'000
Hz
SPL tolerances
±2.0
dB
Phase tolerances
± 45 (300 Hz – 20 kHz)
deg
System
2
ways
Crossover frequency
1800
Hz
Woofer ext. diam.
147 (2x)
mm
Woofer ext. diam.
5.8 (2x)
in
W. diaphragm diam.
104 (2x)
mm
W. diaphragm diam.
4.1 (x2)
in
Tweeter ext. dim.
100
mm
Tweeter ext. dim.
3.9
in
T. diaphragm diam.
27
mm
T. diaphragm diam.
1.06
in
Dimensions W x H x D
166 x 446 x 200
mm
Dimensions W x H x D
6.6 x 17.6 x 7.9
in
Net Weight
10.5
Kg
Net Weight
23.1
lbs
Input connector
1 x XLR F / 3P
Warranty
5 (+1)
years
Flat Response

Each speaker is individually calibrated in our anechoic chamber and is delivered with its frequency response sheet. A proof of quality.
A214-M – The perfect monitor for surround setups
The A214-M is primarily designed as a centre speaker for surround systems. Its power is optimized to satisfy the requirements of post-production and film mixing suites. The small cabinet allows it to be used in surround systems where space is and issue such as below a screen.
A214-M – Who is it for?
Wherever a centre speaker is required, that is where the A214-M belongs. Surround mixing setups of any sort from 5.1 systems to sophisticated immersive audio constructions, a centre speaker is usually required. The A214-M fills this very position perfectly and integrates well with other PSI Audio speakers to create a consistent listening line-up.
Recording / Producing.
Mixing.
Mastering.
Broadcast.
Post Production.
Home listening.
Handmade in Switzerland
All our products are handcrafted in Switzerland with passion and attention to detail.
Manufacturing by hand allows to match and adjust components so that tolerances cancel each other out instead of building up, as is often the case in industrial production.
Choose your colour
Choose between Studio Red, Metal Black and Pure White.
Cabinets are manufactured with great care and attention from the choice of the wood all the way through to the paintwork.
To learn more about PSI Audio, Click Here
View more products from PSI Audio